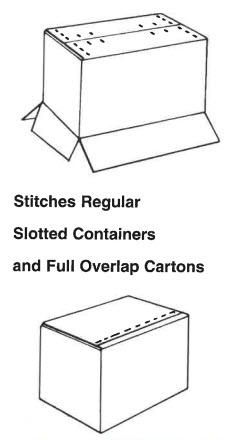 Post Stitching Machine
Box Bottoms: The Post Stitcher quickly and seamlessly places steel staples in the bottom of boxes giving them the strong foundation that other products like tape never could. This allows you to place more and heavier items inside boxes like regular slotted containers and full overlap cartons without fear of the bottom giving out.
Specifications: Post Machines are also made in 1-1/4-inch crown, and 1-3/8-inch crown models, as well as various other size crown and wire sizes. All equipped with 25-pound coil. A 1/3 hp 115V 60 cycle 1ph motor with overload protection. And a push button start-sop switch. Special machine heights can be made to order and variable speed also available.